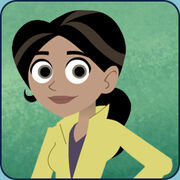 " Ooh, I want a string of mummified parasites!"
-Aviva
Appearance
Aviva is really awesome! She has bushy brown hair that she ALWAYS ties back in a ponytail, with a strand tucked behind her ear. Her pretty eyes are an awesome gray (though sometimes she is shown with green eyes), and she wears a yellow jacket with a blue stripe running down the sleeves over a blue t-shirt. A black belt with a bolt on it is worn crookedly around her waist. She also wears blue jeans all the time, over blue and white converse shoes. Aviva is truly (in my mind) an amazing team member to work with. :) Aviva'sAssistant2
Personality
Aviva is a cool, fashionable, minor protagonist who is well on her way to becoming the most accomplished inventor this planet has ever known! Preferring to blaze around her secret lab on in-line skates, there is always a stylish cool factor in everything Aviva does. Teaming up with the Kratt brothers to help save and explore the creature world, it is often Aviva's inventions that make the difference, a very
big
difference. To help her turn science fiction into science reality, Aviva has brought together an equally ultra-cool and sharp inventive team all with a knack for everything high-tech.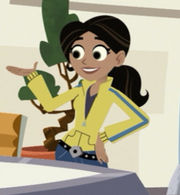 Abilities
She is the only one who can make the creature power disks and suits. She can also make many mechanical machines such as submarines and boats. She is some-what like an engineer. She can speak Spanish. She can also fly the tortuga if nessecary, as shown in the episode, "Walk on the Wetside". Aviva also can program computers. However, she can't dance as shown in "Birds of the Feather", but later learns to dance with the help of Chris.
Relationships[1]Edit
Makes inventions for Chris Kratt & Martin Kratt.
Enemies of Zach, Donita, & Gourmand.
Quotes
Aviva: I'll never doubt a platypus again.
Martin: Or a Kratt brother?
Aviva: Don't push it.
-Platypus Cafe
"Boo-yay! Or...whatever..."
"Ooh, I want a string of mummified parasitses!"
-Aviva
Gallery