Camo is a young Bengal Tiger that appears in Temple of Tigers. When Chris and Martin head to India to prove to themselves they've still got their "Creature Sense," Camo successfully pounces on Martin. He leads the brothers to the temple ruins where he lives with his mother, brother, and sister. Martin names Camo's mother Queen Stealth, his brother Tackle, and his sister Baby Blue. when Donita arrives, she pose beams Tackle and Baby Blue and, eventually, Queen Stealth. Fortunately, Martin and Chris are able to rescue Camo's family, allowing the tigers of India to remain living free and in the wild.
Gallery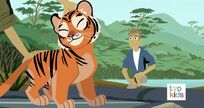 Ad blocker interference detected!
Wikia is a free-to-use site that makes money from advertising. We have a modified experience for viewers using ad blockers

Wikia is not accessible if you've made further modifications. Remove the custom ad blocker rule(s) and the page will load as expected.