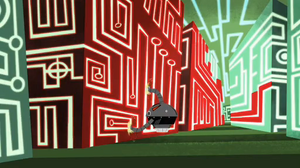 The Disrupt-o-bots were a variation of Zach's Zachbots, specifically designed for hacking and/or other methods of sabotage. Due to their small size and structure, they were able to hack into the Tortuga and disrupt its communication systems, along with their more notable feature of hacking into the Creature Power Suits and disrupting the activation (and deactivation) sequences. They were introduced in the episode "Creature Power Challenge."
Trivia
The Disrupt-o-bots have not been seen since their debut in Creature Power Challenge. It can only be assumed that they simply fell out of use to Zach.

However, it is hinted that they might return in Blue Heron and have their hacking drills replaced with claws like normal Zachbots.
Gallery