"Mini Madagascar" is the seventeenth episode of the third season of Wild Kratts, originally airing on PBS Kids on July 22, 2015.[1] Overall it is the 83rd episode of the series. The episode was written and directed by Martin Kratt.
In this episode, realizing that Madagascar has no major land predators, the Kratt brothers settle on exploring Madagascar miniaturized. However, after riding on diademed sifakas for a short amount of time, they fall to the forest floor, where they discover a whole new world of creatures.
Plot
The episode begins with a live action segment. The Kratt brothers are hiking through the cloud forest of Madagascar. After looking up, they look down and find a leaf litter frog and a chameleon of the genus Brookesia. Afterwards, they ask their "What if?" question and the show transitions into the cartoon segment.
The Kratt brothers and Koki walk out of the Tortuga and catch sight of a troop of diademed sifakas. After realizing that Madagascar has no large predators, the Kratt brothers settle on exploring Madagascar miniaturized. Jimmy teleports them the Miniaturizer, and they subsequently miniaturize and get on the back of a diademed sifaka. The sifaka leaps across a few trees before stopping to eat some leaves. At this point, Martin names the sifaka Lemair. Lemair and two other sifakas then cuddle together and fall asleep. Suddenly, a chatter-like sound scares the sifakas away, and the Kratt brothers land fall to the forest floor. While looking around, Chris trips over a chameleon of the genus Brookesia. After getting to know it for a moment, the Kratt brothers stumble upon a patch of leeches. Two leeches inch their way, but are soon eaten by a streaked tenrec. The Kratt brothers then end upon a hissing cockroach, which leads them to a mouse lemur. The mouse lemur pounces upon the cockroach and kills it. The Kratt brothers decide to activate Chameleon Powers and return to riding on lemurs, this time on a mouse lemur. The mouse lemur sees a fly, follows it, and catches it at the tree tops. The Kratt brothers notice the Tortuga nearby. They deactivate and run away when the mouse lemur sees them. They slip off a branch, ride into a window of the Tortuga, and return to normal size after jumping onto the Miniaturizer when the mouse lemur reaches the tip of the window sill. Aviva picks up the mouse lemur and shows it to the rest of the crew. While the Wild Kratts are not paying attention to the Miniaturizer, three diademed sifakas use it to enlarge themselves. One sifaka presses on the liftoff button and activates the Tortuga's thrusters. The Wild Kratts place the sifakas back on the Miniaturizer and return them to normal size. The Tortuga then returns to the ground, where the Wild Kratts spend time with the animals the Kratt brothers met while miniaturized.
The show transitions into the concluding live action segment. The Kratt brothers find frogs, a Galidia, a Madagascar day gecko, a leaf-tailed gecko, and a giraffe beetle close to the ground. Afterwards, the Kratt brothers conclude the episode by saying "Keep on creature adventuring; we'll see you on the creature trail!"
Characters
Humans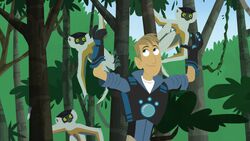 Animals
Animation
Flashbacks
Live Action
Trivia
Watch Episode
Gallery
References