Okay the Tokay is a tokay gecko who first appears in "The Gecko Effect". The team discovers her in the night in the forest and pick her among the other tokay geckos to study. The team miniaturized and was followed into the forest to unlock the secrets of the gecko. She later helps Aviva design a Tokay Gecko Power Disc.
Trivia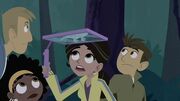 When Martin repeatedly recited the name he gave the gecko to Chris, because if it is significant in the English language, Christ would not understand.
Despite the name, there are people recorded in English Victorian times named "Okay".
Contrary to what Chris says, Okay is revealed to be a female gecko at the beginning of the episode. The lizard first spotted in the Tortuga was a boy. However it is seen that Okay (the female gecko that the team was examining) accompanied them back to the the Tortuga during a moon rat scare.
Ad blocker interference detected!
Wikia is a free-to-use site that makes money from advertising. We have a modified experience for viewers using ad blockers

Wikia is not accessible if you've made further modifications. Remove the custom ad blocker rule(s) and the page will load as expected.