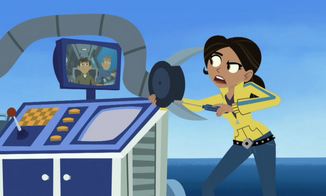 The Robot Arm is an invention of
Aviva
which first debut in season one episode,
Whale of A Squid
. It was originally designed for deep sea exploration as an attachment for the
Amphi-Sub
, but has since been use by the Wild Kratts for a number of uses during there creature adventures. It is resistant to water pressure over 600ft deep. The
Mik
has a smaller built-in version of the arm.
In Whale of A Squid, Aviva used the arm to save Chris and Martin after the amphi-sub took a collision with a giant squid. Later it was used again by Aviva to free Bumpers mom from a ghost-net.
Gallery: