Welcome to the Wild Kratts Wiki
The
Wild Kratts Wiki
is the official community site dedicated to the
PBS Kids
television series
Wild Kratts
and its related media. Anyone can edit here, we can only grow with
YOUR
help.
If you're new to this wiki, please look at our site policies and take a moment to check out the Wikia tutorial. If you have any problems please ask one of the admins for help.
Home to
718
articles
since January 30, 2011
Wild Kratts
LAST EPISODE
NEXT EPISODE

"Mystery of the North Pole Penguins?"
Season Five, Episode 01
(July 25, 2017)
"Temple of the Tigers"
Season Five, Episode 02
(July 27, 2017)
The Wild Kratts are hanging out with Emperor penguins at the South Pole and wondering why penguins don't live at the North Pole. All of a sudden, Koki gets a report from Wild Kratt Kid, Nua, that there are penguins stranded in the Arctic. What? They're not supposed to be there! The Wild Kratts spring into action to investigate this mystery and get the "lost" penguins back to their natural home.
After Aviva successfully sneaks up on and surprises the creature adventuring Kratt Brothers, they worry that they've somehow lost their signature 'creature sense'. Chris and Martin go off in search of the stealthiest, most powerful wildcat in the world - the tiger - on a quest to prove to themselves that they're still in tune with the creature world.
POLL
Which episode are you most excited about?
Last Poll: After 261 votes, 89.27% (233 people) said they are very excited for Season Five..*
FEATURED
USER

Logo8th is our featured user for the month of September 2017
FEATURED
QUOTE
"
And that's what our friend Hero the salmon thought us. Keep trying, no matter how hard it gets. It's the lesson we've learned on Hero's journey.
"
FEATURED
VIDEO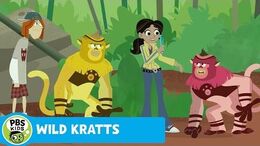 Ad blocker interference detected!
Wikia is a free-to-use site that makes money from advertising. We have a modified experience for viewers using ad blockers

Wikia is not accessible if you've made further modifications. Remove the custom ad blocker rule(s) and the page will load as expected.