Welcome to the Wild Kratts Wiki
The
Wild Kratts Wiki
is the official community site dedicated to the
PBS Kids
television series
Wild Kratts
and its related media. Anyone can edit here, we can only grow with
YOUR
help.
If you're new to this wiki, please look at our site policies and take a moment to check out the Wikia tutorial. If you have any problems please ask one of the admins for help.
Home to
674
articles
since January 30, 2011
Wild Kratts
LAST EPISODE
NEXT EPISODE

"Creatures of the Deep Sea Part 2"
Season Four, Episode 26
(November 23, 2016)
"Alaska: Hero's Journey Part 1"
Season Five, Episode 01
(July 24, 2017)
The Wild Kratts continue their exploration of the deep sea. Now, they have a new mission: to rescue the deep-sea fauna from Chef Gourmand's plot to make seafood out of them. A battle with Gourmand ensues, but soon everyone must quickly escape from the area when the villainous chef causes a chain of underwater volcanoes to erupt.
Aviva announces she's one step closer to fixing the Time Trampoline with the invention of a Time Thruster. But before they can check it out, it goes overboard and attaches onto a Sockeye salmon who is in the middle of the "Salmon Run". The Wild Kratt team is led on a wild chase, as they follow the salmon on this incredible and difficult journey - both battling the odds to reach their goals.
POLL
Which episode are you most excited about?
Last Poll: After 261 votes, 89.27% (233 people) said they are very excited for Season Five..*
FEATURED
VIDEO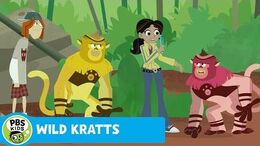 Ad blocker interference detected!
Wikia is a free-to-use site that makes money from advertising. We have a modified experience for viewers using ad blockers

Wikia is not accessible if you've made further modifications. Remove the custom ad blocker rule(s) and the page will load as expected.